Marcopolo Environmental Group
MARCOPOLO ENVIRONMENTAL GROUP is an international reality with over 40 years of history behind it, operating in the environmental field, with a large number of patents and production processes, for the "sustainable and active" industrial valorisation of waste / good by-products and the production of energy and biomethane from renewable sources.
Marcopolo Environmental Group's environmental activities are manifold and include the production of green energy from landfill biogas, biogas from selected agro-industry by-products, wind power and agrophotovoltaics. The group is also active in the production of biomethane, landfill safety, environmental remediation and the production of humus for the regeneration of agricultural land.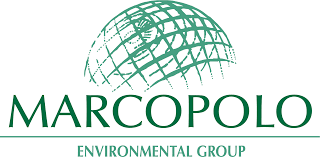 CONTACTS:
MARCOPOLO ENVIRONMENTAL GROUP
Via XI Settembre, 37, 12011 Borgo San Dalmazzo, Cuneo, Italy
Tel. +39 0171 262348
Email: info@marcopolo-e.com
Website: www.marcopolo-e.com
Contact person:
Alessia Bertolotto, general manager
alessia.bertolotto@marcopolo-e.com